Special lecture at Toyama Kenchiku Network
I attended the special lecture, which was sponsored by Toyama Kenchiku Network on April 15th.
The special guest and a lecturer this time was, our super star, Riki Choshu ! The theme of his talk was 'The power to live through Tumultuous life'.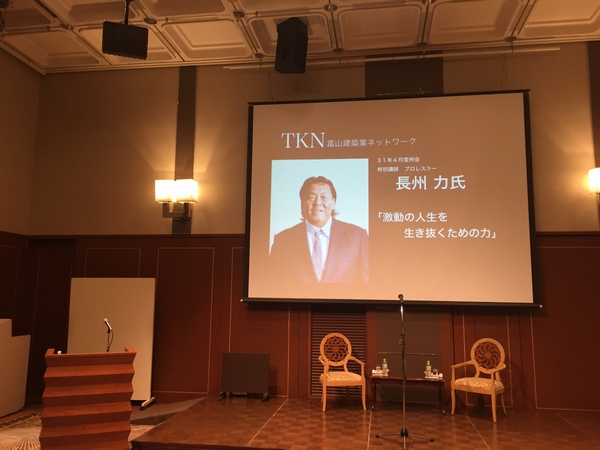 How could we not get excited to be able to see and get close to the hero whom we cheered in front of TV in our childhood , as pro-wrestling was in big boom ?
Well, what he spoke about was … exactly what you imagine ( lol )
Our super star turned out to be extremely modest. He uttered, " Someone like me has nothing to teach you (who are mostly business owners) ". The 68-year-old super star, Mr. Choshu, also said, what he value is 'putting shoes together neatly'. I thought he still was and will be our super star forever, because of his consistency towards basic attitude of modesty and manner no matter how old he gets !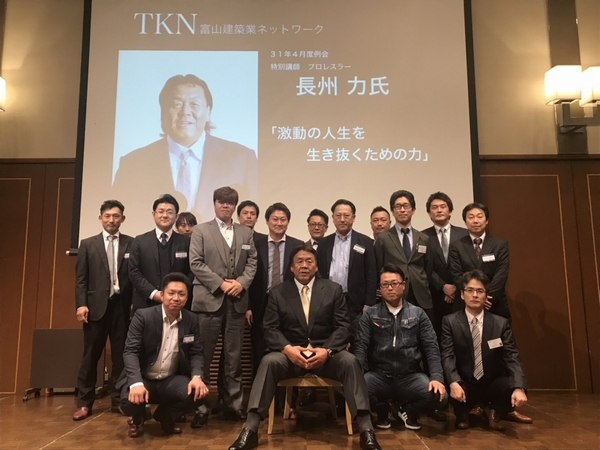 Stay consistent with the basics !
Do the best in nothing special !
Maybe the above could be the morals I learned from him. Needless to say, all the participating young business owners at the lecture shared fun and touching time together.
On a side note …
At the party following the lecture, one of the committee members, Mr. Maeda, announced " Mr. Choshu is joining us in this party because he felt for our enthusiasm."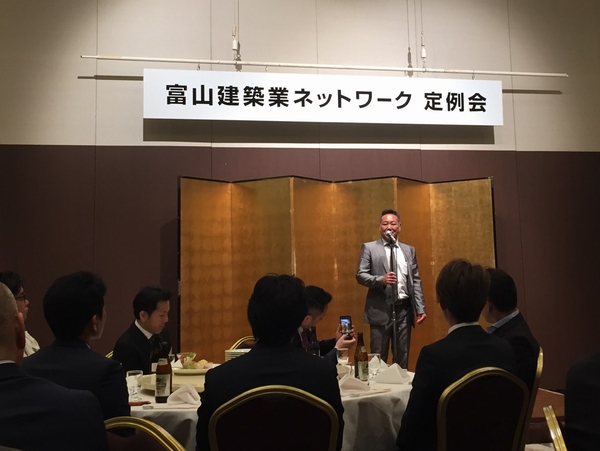 Then, guess who showed up… ?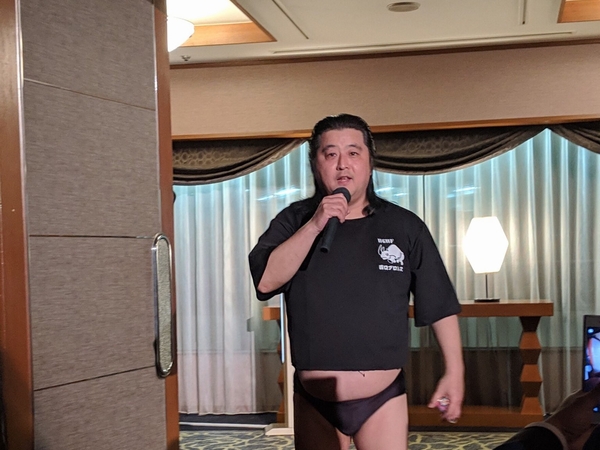 It was Koriki, the comedian, not Riki (sweat, sweat).
His dance was not sharp at all.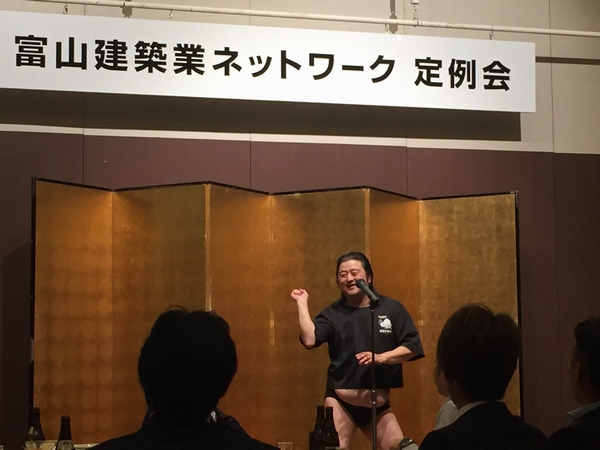 Even though it was 'Koriki', not 'Riki' himself, but we all enjoyed watching his comic performance.
Many people attended TKN's gathering as guests this time, and registered for a membership.
TKN is growing to be a bigger organization. Since we (TNK Inc.) are not in the genuine type of company who belongs to this industry, we will see what sort of contributions we can make to the people/companies in the architectural industry in Toyama Prefecture in the future.
There will be another regular gathering in June. If you are interested in this hot group, please join us as a guest next time.
【 Related Topics 】
TKN (Toyama Kenchikugyo Network) annual New Year gathering (Feb. 2019)
TOYAMA KENCHIKUGYO (Building Contractors') NETWORK(TKN)
【 Toyama Kenchiku Network 】