Received the certificate of 'Green Juice Meister ®' !
TNK Inc. has this mission of spreading 'Green Juice' to the world…
Currently, we are exploring markets in Thailand and China.
Let's not underestimate 'Green Juice', because it is consumed more than curry here in Japan. Did you know that?
So, we challenged to get the certification of 'Green Juice Meister ®' in order to reinforce the dissemination activities of 'Green Juice'.
※The 'Green Juice Meister®' is the first certified 'Green Juice' specialist in Japan, who has learned the importance of vegetables through green juice, has raised the consciousness towards health, and is capable of disseminating its importance widely to the public. (exert from the Institute of Green Juice Meister in Japan)
I took the examination on August 26th and I received an envelope today.
Well, the result was …
I passed it! YEAH !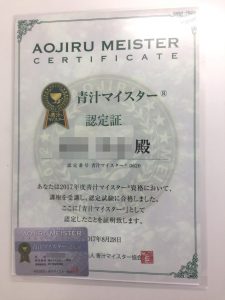 This is the sublime certificate.
I, along with this certificate, as a professional meister will disseminate 'Green Juice' to Thailand and China. Currently, TNK Inc. has business relations with a couple of green juice manufacturers. If you are interested, please call and ask for our 'Green Juice Meister ®'. We'll suggest the best green juice for you!