Learning the most up-to-date economic movement of China at JETRO's business seminar
We attended a business seminar given by JETRO Toyama.
The theme this time was " Business in China ".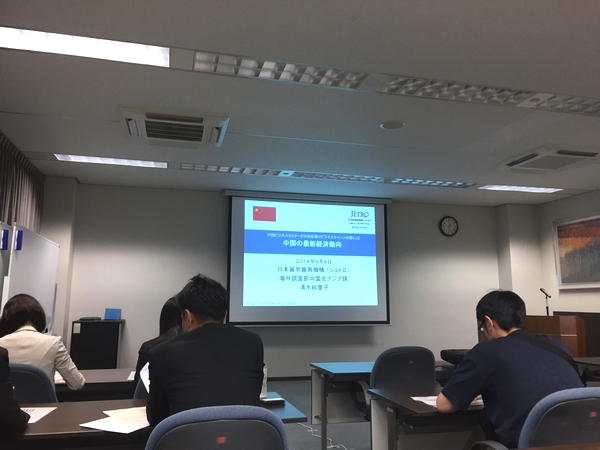 There were 2 sections at this seminar as below:
1st section: " The most up-to-date economic movement of China – Let's get a business chance in the Chinese market! "
2nd section: " Risks and their management in China – Case studies of companies already made advancement."
While the big typhoon was approaching Toyama, we listened to the lectures for 2 hours.
To be frank, I thought China was an extravaganza!
If asked " What's so extravagant about China?", I'd say " Everything! " because the data displayed was overwhelming.
Investment, production, consumption, the lowest wage, cashless society, metropolitanization of inland cities, and the vast net business…
Furthermore, it was astonishing to know that the economic level of many provinces are same as some countries in the world.
(Ex. The economic leve of Canton Province is larger than that of Spain, Kouso Province is larger than Mexico or Indonesia, etc.)
All the data demonstrated by JETRO are very educational.
We want to take advantage of the above information to deal with Chinese business from now on.
We'd be participating as many interesting seminars as possible.