First time in Japan! Fire-extinguishing experiment of Fire-Extinguishing Life-saver Ball (Ibaraki Prefecture)
This is a report of Sales Planning Department.
We went on a business trip to Ibaraki Prefecture in order to attend this experiment of that ' Early-Stage Fire Extinguishing Ball' that we introduced in one of the earlier topics. It was the first attempt of experimenting primary fire-extinguishing life-saver ball in this country ! It was held at the river bank of Tone River at Sakai-machi, Sarujima-gun, Ibaraki Prefecture (by the dock of Sakai Riverside Park).
It was our first time to actually watch how the fire-extinguishing ball works with our own eyes, although we had seen some video movies before. It certainly was a precious experience in order for us to propagate it throughout the country.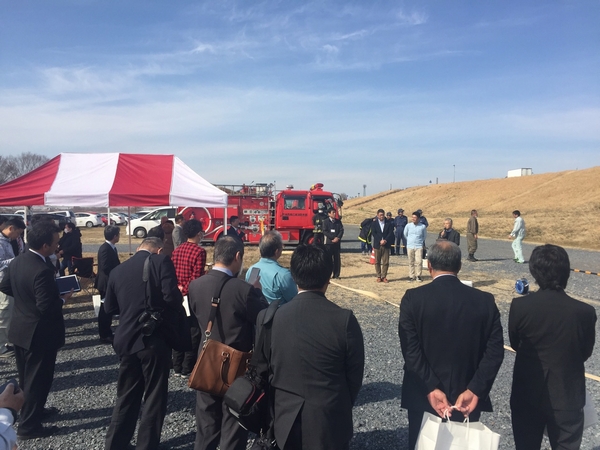 We were blessed by the weather and the support by Sakai City of Ibaraki Prefecture that day, many audience gathered to watch the experiment under the beautiful sunshine.
The actual fire-extinguishing experiment was done as below.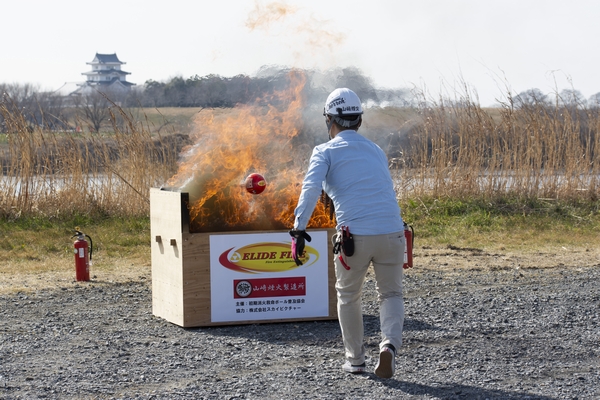 Throwing a fire-extinguishing ball into fire !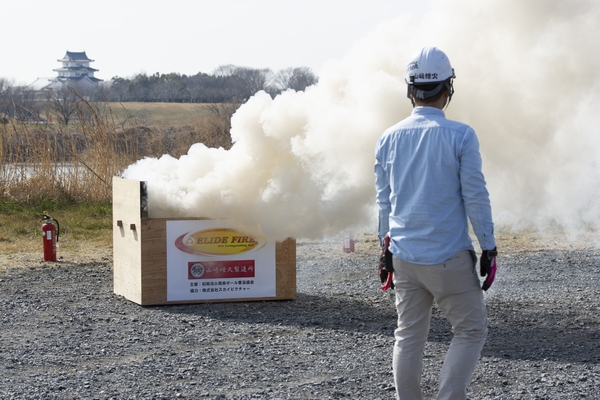 Fire was gone instantly !
This really surprised all the local firefighters who were standing at the site by just in case. At the sight of this amazing experiment, we were convinced and will propagate it with confidence from now on. Furthermore, I also felt from the bottom of my heart that this small ball may become a foothold in drastically decreasing the number of fire in Japan.
There was a challenge showing remote fire extinguishing by using a drone as well.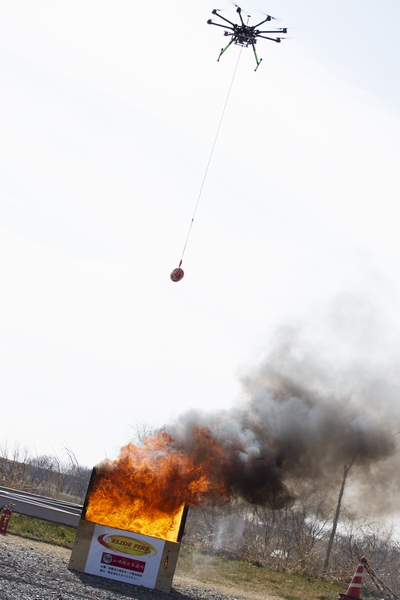 This was a big success as well!
It truly was amazing!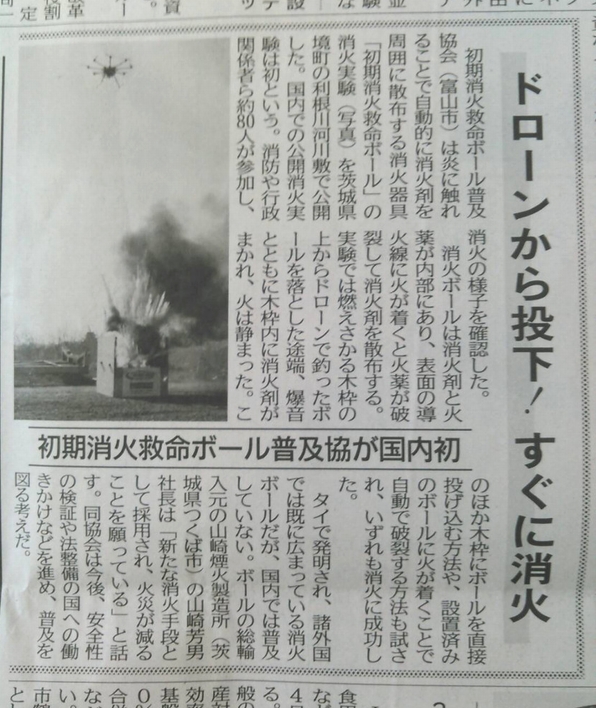 There was a news article on the daily newspaper, Nikkan Kogyo Shimbun on the next day. You may check out the article from the below link.
URL: https://www.nikkan.co.jp/articles/view/00507409
We surely had a great experience.
We hope to have this experiment in Toyama next time. And, if you are interested in this amazing fire-extinguishing ball, please contact us any time.
【Related Article】