500 days left until the Tokyo Olympics !
We went to Tokyo from March 11th and 12th.
On the 1st day (11th) of our business trip, we had a meeting at the office of the JAPAN Association for Working Holiday Makers with such groups and entities as MEXT (Ministry of Education, Culture, Sports, Science and Technology), universities' student organizations as well as related private corporations to exchange information and opinions about the future of international human resource development.
And then in the evening, we attended a seminar by the super-varistor, who travels all over the world and have won two varistor's world championships, named, Mr. Nobumasa Shimoyama, at "Workingholiday Connection" in Omote-sando. Mr. Shimoyama, who currently works successfully in Melbourne, is helping out the youth who come to work in Australia by the 'Working Holiday' system. He is working hard to foster many people with work-experience overseas by leveraging the 'Working Holiday' system, which will be valued most in Japan in the future. His speech was very educational and I felt very sympathetic about it.
Reference URL: Varistor Shimoyama, the world champion of Latte Art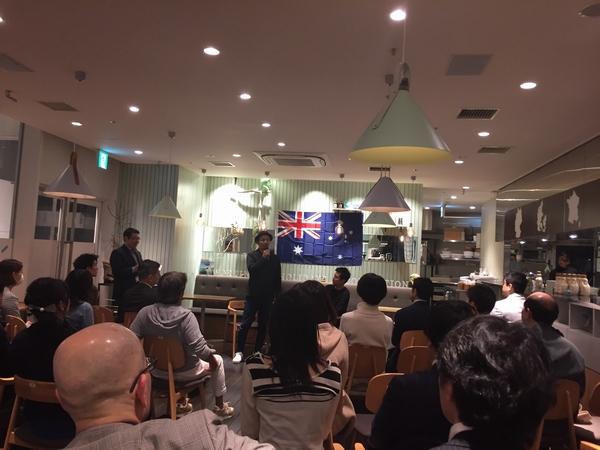 'Human development' is one of the most important and urgent issues, we must say. I truly felt the urgency of more Japanese youth to get experiences overseas in order to support Japan's globalization in the future.
To this end, I believe the 'Working Holiday' system is expected to grow more because it is easier to access and more diverse challenges are available. Practically, we (TNK Inc.) are deeply connected with overseas markets, so we are hoping to be of support to the works of the JAPAN Association for Working Holiday Makers in one way or the other.
And then, on the 2nd day (12th) of our business trip, we made a presentation on our new sales products, the 'early-stage fire extinguishing ball', at the Fire Equipment and Safety Center of Japan as well as at the first members' office building of the House of Representatives.
On our way back, I came across this digital signage …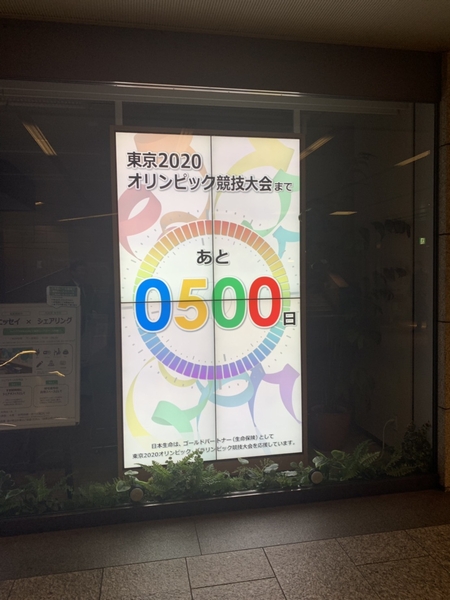 " 500 days left until the Tokyo Olympics ! "
Time flies and we are almost there.
People with 'Working Holiday' experience may be of some help in the Tokyo Olympics. We want to pay attention to such signage next time we have a business trip to Tokyo.
I wish I could watch the Olympic games in real time at the Olympic stadiums, to my regret, however … I won't be able to do so because of work.