Japan is said to be one of the leading countries with natural disasters, and has been damaged by all kinds of disasters such as volcanic eruptions, earth quakes, tsunamis, typhoons, heavy snowfalls, and so forth.  Accordingly, we are gathering most suitable products from all over the world to prevent such disasters cause by fire and flood, and are trying to permeate the usage of them as well.
5-1. Fire Extinguishing Tools
・Early-stage Fire-extinguishing Life-saving Ball 
・Throw-in Fire-extinguishing Agent
・Fire-extinguishing Agent specifically for fry-oil fire
etc.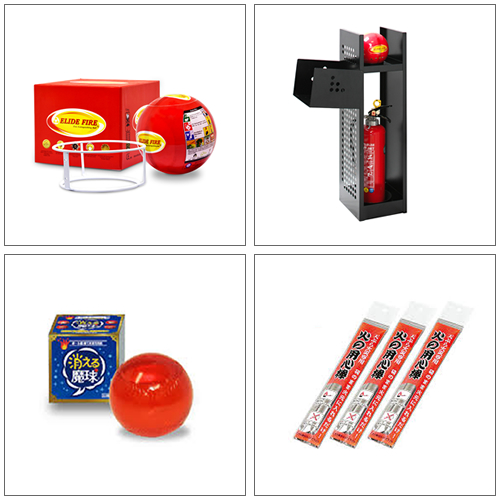 5-2. Flood Prevention Equipment/Tool
・Emergency Water Purifier
・Seawater Desalination Equipment
・Special 'Do-No-Bukuro' (water bag)

etc.
※ You don't need to go through the nuisance of filling Special 'Do-No-Bukuro' with sand because it absorbs water to inflate.  Therefore, you can cope with sudden flood swiftly in big cities where there is hardly any sand to fill the sand bags with.
5-3. Evacuation Route Securing Equipment
・Phosphorescent tape
・Phosphorescent emergency exit sign
・Phosphorescent chain
etc.
※ Phosphorescent tape is JD-Class product, which is the top class in JIS Standards 
※ Phosphorescent emergency exit sign is so luminous that it's been selected as one of the certified fire prevention equipment (C 200 Class), and was introduced by the Ministry of Internal Affairs and Communications/Fire Department.