We often hear the word, 'SDGs' lately.
So, we started to study what 'SDGs' were by gathering pieces of information here and there…
'SDGs' stands for 'Sustainable Development Goals'. It is a mission adopted at the United Nations' Summit in September 2015. It is a mission to be achieved among 193 member countries during the time of 15 years between 2016 and 2030.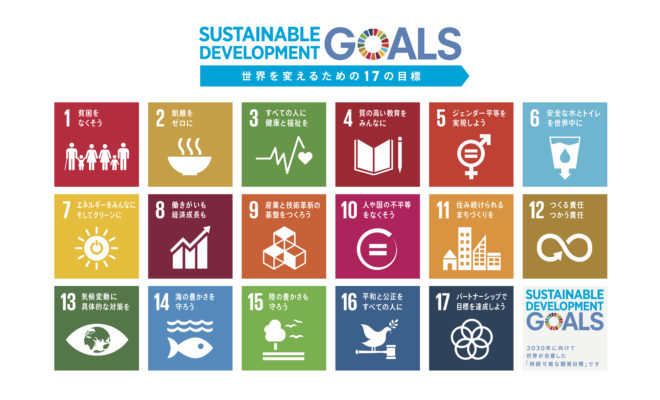 There are 17 major objectives as in the chart above, and is structured by 169 concrete targets in achieving them.
In a nutshell, what it means is, "Let's make actions together with a common goal in order for all people in the world may continuously live a full and humane lives.
Incidentally, in Japan, Prime Minister Abe, takes the lead as a managing director of this project, and has announced that the Japanese government will take various actions regarding SDGs, involving all prefectures, municipalities, and private corporations, and others.
Toyama Prefecture, where TNK Inc. is located,…
has been selected as a 'SDGS Future City' and a 'Model case project of municipal SDGs' on June 15th, 2018!
Cabinet office has selected 29 municipalities with supreme actions as 'SDGs Future Cities', and will select 10 top-notch projects among them as the 'Model-case projects of municipal SDGs'.

For further details, please see the homepage of 'SDGs Future City Toyama'.

After all that we said above, we were still in the process of deepening the knowledge on SDGs…
URL: https://sdgs.city.toyama.lg.jp/common/pdf/SDGs_A4.pdf
Then, one day, I came across this announcement that there would be a forum on SDGs in Toyama!
It says a comedienne is going to be there to teach us about SDGs, so it looks like it's going to be a fun event!
Furthermore, it's free of charge and no prior registration is required.
How can you miss such a chance? Right?
So, those who may be interested, why don't you swing by ?
Just for your information…