Getting memories into shape.
This is Sales Promotion Department's report.
We made a photo album with the pictures taken at the cherry-blossom-nursery planting ceremony held in Chiang Mai last year.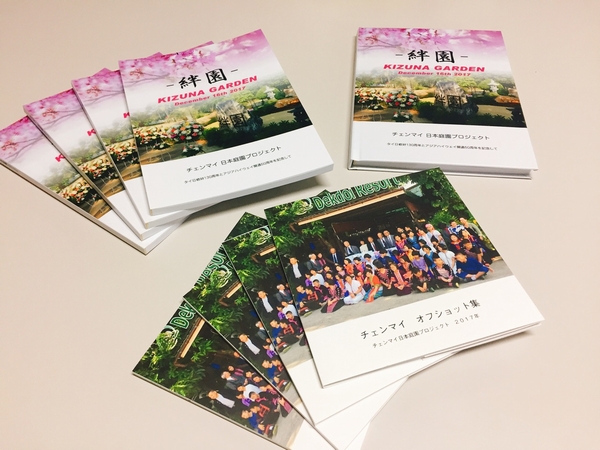 People take pictures at such occasions as parties, events and overseas trips with their smart media these days.
However, such pictures tend to be getting accumulated within the device.
Here is the solution! You could make compilation albums of memories in the format of real photo albums as shown in the above picture.
It may seem 'analog' at a glance, but it give you different impressions than viewing them in a small frame of smart media.
Besides, you could send it as a gift of memories that you shared with your friends, and that will even add more values to such memories!
Making photo albums could not be so difficult, but if you feel, 'it's bothersome.', 'I don't have time to make one.' or 'I'm not so good at making albums.', etc., we are here to serve you with a competitive pricing!
Just send us 20 – 100 photos of your choice.  We will make photo albums for you.
Our experienced designer will offer you some layout ideas.
Just call us anytime and tell us your request.