Introduction of 'Early-Stage Fire Extinguishing Ball'
This is a report from the Sales Planning Department.
We are excited to introduce this new "Early-Stage Fire Extinguishing Ball" !
' Early-stage Fire Extinguishing Ball' is a supporting tool for extinguishing fire at its early stage. It was developed in Thailand, and is now sold in over 100 countries in the world. It is acknowledged as a fire extinguisher in Canada, Malaysia and Turkey, and it is expected to expand in Japan.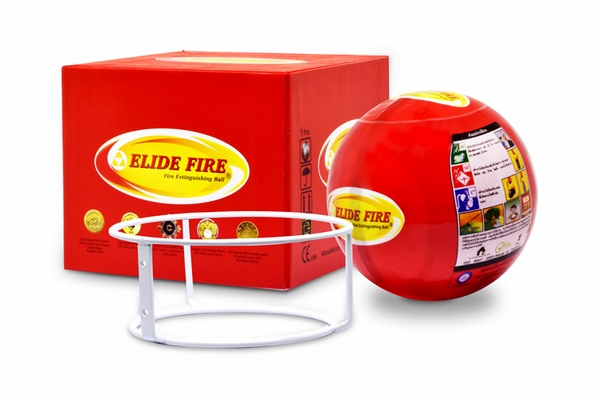 No wonder it's called 'fire-extinguishing ball' as it is as round as a ball. So, it is thrown or rolled into fire to put it out. And, it's upmost feature is that it has an automatic fire-extinguishing functionality within. It has a fire-point and gunpowder inside, and when it's ignited , the ball explodes to splatter fire extinguishing agents.

Fire could take away all the important things you treasure like family, property and such.
According to the report Fire and Disaster Management Agency made public for media in August 2018, there occurred 39,373 fire incidents within Japan during the course of the year in 2018 (January – December). That number implies that, about 108 fire incidents occur per day, and 1 fire occurs every 13 minutes. There were 2,542 more fire incidents, which is 6.9% increase as compared to the previous year, in 2018.
Furthermore, the number of death in these fires was 1,456 people, with 6,052 people wounded.
These numbers signifies, about 4 people die in fire and 17 people get insured every day. If we dig in deeper, the number of death in residential fire was 889 people, among which, 646 people were over the age of 65 years old. This means 72.7% of death in residential fire are comprised by elderly adults. As the cause of death, 'fail to escape', comprises overwhelmingly large percentage, and teaches us that elderly adults are extremely vulnerable at the time of fire.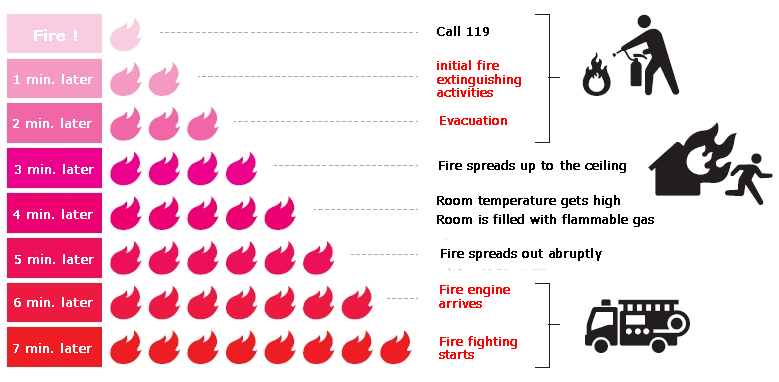 It is extremely important to beguine fire extinguishing activities at a very early stage of fire after it started. Once fire starts, it spreads to wall in about 2 minutes. The possibility of putting fire out if appropriate fire extinguishing activities are made at an early stage before it spreads up widely. In other words, it is presumed that, if fire cannot be put out within 2 minutes, it may spread up to become big, and may increase the number of human victims who fail to evacuate in time.
So, enter the ' Early-Stage Fire Extinguishing Ball '!
It can be handled easily by elderly people. And, if it is equipped at the appropriate place, it can work to extinguish fire without human presence.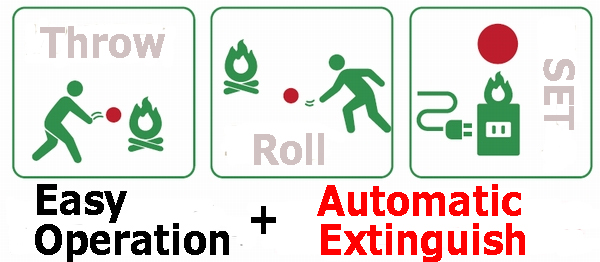 We believe this product has a potential to save Japan from its fire disasters in the future !
We'll do our best to propagate ' Early-Stage Fire Extinguishing Ball' throughout the country ! !
If you are interested, please contact us by all means !
【 The Association for the propagation of ' Early-Stage Fire Extinguishing Ball' 】
539-1 Hassaki, Tsukuba City, Ibaraki Prefecture (c/o Yamazaki Fireworks Manufacturing Co., Ltd.)